Discussions with Stagecoach
Discussions with Stagecoach
par Adehoum Arbane le 30.05.2013 dans la catégorie Interviews & reportages de Shebam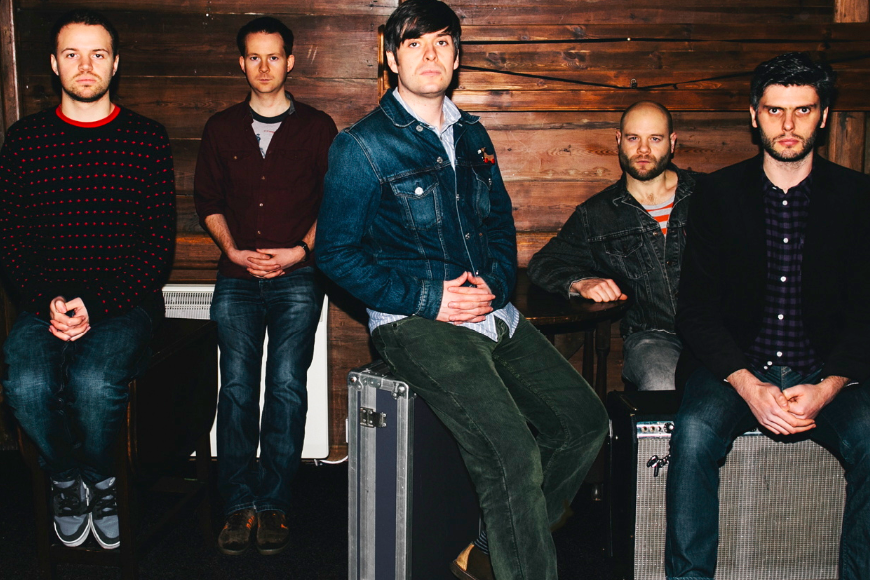 Young hope of British indie pop
All roads of the web do not lead to Rome but to Dorking, Surrey, where Stagecoach were born. It is not where we actually met Luke Barham, their lead-singer. From laptop to laptop, we exchanged some considerations and analysis on pop music, weather conditions, youth, Paris and of course their very first LP, cleverly called Say Hi To The Band. The discussion was like a good old classic rock song or true love : short but good.
Shebam : The UK. Twas Thatcher yesterday, today, it's the rain, the city… And you come along with an essentially Californian power pop. Isn't there a shift ?
Stagecoach : I think if you live in a very grey country like England it's nice to daydream and escape if only for a few seconds. We love music from California and the west coast and I guess if our music reflects that it's because we are allowing ourselves to daydream and disconnect via our music. I got to visit LA last year and it was everything I imagined it to be. I wrote lots of songs in a short space of time there which we are working on as a band currently. I found it fiercely inspiring.
Shebam : There has been quite some time between the moment you started the band and the launch of your first album. Could you please sum up the story, the pitch ?
Stagecoach : Well Stagecoach begun almost 10 years ago now. We started as a 2 piece playing country, then added more members and over time evolved in to a rock band. We released a couple of EPs and singles on small UK indie labels which were well received. Radio was playing our songs, magazines were writing about us but we got to a point where we didn't have anything more to give them. We had been constantly playing shows, touring and realised "shit, we don't have an album ready"Everything will grind to a holt if we don't have more songs. At that point we had to take a year away to write and make sure everything was just right before we returned with the album we always dreamed of making.
Shebam : One of your most hardcore fans has recently qualified your music as pure teenage lust. Are you the Larry Clarks of British rock ?
Stagecoach : Ha ha! Well I don't think our music is quite as edgy as say the film 'Kids' but it's great to think we can inspire and excite people with what we do. There is certainly an energy to it which is born out of how much we care for the songs. How many bands do you know who have lasted 10 years at the DIY level we're at? We only still exist because we are passionate about it. We like to think that resonates through the album.
Shebam : Emergency seems to be THE word for this LP, though you sometimes cultivate intimate climates, quite sober, almost full of gravity. You are in fact true romantics, right ?
Stagecoach : Yes and certainly when you are making a larger body of work you can afford to experiment with those more intimate moments. When we were releasing single after single we were always very conscious of making something which instantly hit the listener over the head or grabs them by the neck. With an album you have more time to breathe and can take your time to explain your message. I think the hard part is just getting the balance right between the type of songs you include.
Shebam : In fact, isn't it the trademark of great records (the diversity in climates) ?
Stagecoach : Exactly. You want to paint a picture of the whole landscape and take the listener on a journey. All our favourite records do. The ones that fall flat are the ones which are just one trick done time and time again. We were very conscious of getting the variety just right, we think we achieved that. We can't wait to see what people say about it.
Shebam : One of your tracks is called "We got tazers". Are you planning to "karcherize" the British production, the charts and the programmers ? More seriously, does the horizon seem bright for you guys ?
Stagecoach : I don't see a Stagecoach takeover being likely any time soon. In the UK guitar bands are having a tough time finding space but these things come in waves. I'm sure in a year guitar music will be what everyone is talking about again. We have a big tour starting the week the album comes out and then several UK festivals. After that we want to write new songs, we already have a couple which are what we call 2.0. They are next level Stagecoach. We only recently started to explore the world of synths and this new land holds much hope for us.
Shebam : Listening to your singles, Work Work Work and particularly Action, one can rediscover in a way the striking recklessness of the Who, period My Generation. Do you have the dream to become the Who of the 2013 years ?
Stagecoach : It's nice to be compared to them but I don't think anyone in the band is a big fan of The Who. I guess the UK band we all connect with most is blur. We all grew up in the 90's so they were an extremely important band when we were learning to play our instruments and first going to gigs. They share lots of the same qualities as The Who so perhaps that is what you are hearing? My Dad is the hugest fan of The Who so perhaps it's in my gene's?
Shebam : Despite a few underlying references, the "campus pop" dimension, you managed to avoid the revival trap. So, happy ?
Stagecoach : It's a funny one as our music certainly has a 90's college rock sound and this is only through us growing up in that period. When I was 12 or 13 I loved listening to The Lemonheads and Dinosaur Jr so they had an impact on my song writing. Now the whole 90's sound has blown up and is a movement we don't want to be grouped in with it. We don't want to be seen as jumping on some current trend. We have been doing this for almost 10 years and have never bowed down to or tried to fit with any scene. We write songs the only way we know.
Shebam : John Lennon said "French rock is like British wine." But apparently, you have a particular relationship with Paris and French pop in general. Could you tell us what happened ?
Stagecoach : Well I went to Paris maybe 5-6 years ago with a friend and landed at a bar called The Shebeen. We got chatting with the owner 'Earle' and he asked me to play the following Monday. Everyone seemed to be a musician in this bar and we quickly made lots of friends. Each summer after that we'd make the trip over to Paris and play gigs. It seemed for a while like we were making more progress with gaining fans over there than in the UK. We also met our hero's 'Phoenix' along the way and briefly became friends with them. I even got to sing some Phoenix songs with Branco from the band playing guitar one night. We are also still close friends with Charles Baptiste and made it our mission to tell the UK about him. Paris is very special place for us, we haven't been for some time but really miss playing shows there. We look on it fondly as the best period of Stagecoach in many ways. It just always had some magic where anything could happen. One night playing with The Wombats, the next chatting with Phoenix about The Neptunes productions. Ridiculous really. I sometimes wonder if it was all a dream.
Shebam : What desert island would you bring on an album ?
Stagecoach : I think for myself it would be The Lemonheads –It's A Shame About Ray. If I was choosing for the whole band i'd choose Phoenix –Wolfgang Amadeus Phoenix. We think it is a modern masterpiece and it has been the sound track to every party we've had since it came out. It seems impossible to tire or it.
Shebam : Let's exchange roles. Ask me a question.
Stagecoach : We love French music from Serge to Sebastian Tellier and Jean Michel Jarre but it seems when we are in France nobody talks proudly of their native artists. Which French musical export do you most admire and why ?
Shebam : Quite a delicate question as France has followed a quite different musical and pop path in parallel to the UK. I won't point out Gainsbourg, you already did... Therefore, just because I need a different answer, I will opt for... Magma. And for several reasons. They are a band I adore, I discovered them a few years back, when my post-teenage musical initiation started. Magma deflowered me, if I may say so. 2nd reason, Magma rapidly came upfront as an original and radical band in the 70s in a progressive scene which counted numerous other original and radical bands. They are very peculiar as a French band, as they sing in an invented language, the "Koabaian", which makes their manifesto powerful and universal. Finally, and it's probably their only common point with the great Serge : Magma was exported worldwide with a style that was picked up by numerous other European bands, and even American ones !
It is on this slightly shifted answer that this interview closes, showing that there is a way to reconciliate immediate pop and avant-garde rock. But let's get back to Stagecoach and their present. And an almost philosophical thought comes to my mind. The UK is looking every year for a new band to worship. Sometimes the perfidious hype and the devious buzz totally deflate and the craziest rock promises vanish and it can be so disappointing ; what if Stagecoach were to make this terrifying reality lie ? What if Luke Barham's gang was THE band everyone should follow, listen to, support ? Our only hope ?
'Say Hi To The Band' is distributed by Hip! Hip! Hip! In France http://hiphiphip-label.com/
---